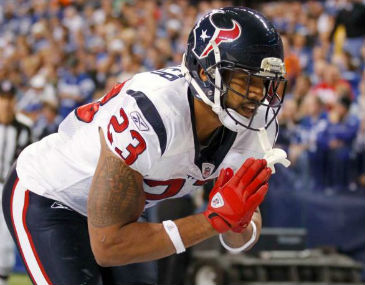 By Maxwell Morgan
In a season of firsts, the Texans went to New York for their first nationally televised game of the season. They left with a first time ever 5-0 record, winning their first away Monday Night Football game, and suffering their first significant injury of the season. Brian Cushing, our defensive captain, is out for the season with a torn ACL that happened on a seemingly illegal clip away from play in the second quarter. So, even in this win, the Texans have sustained a significant loss.
The national pundits had been scoffing at the matchup between the Jets and Texans all day. The unanimous consensus was the Texans were going to dominate. I even said so much last week after the shellacking of the Titans. Apparently the Jets didn't get that memo. I'm often surprised at how easily the media forgets that the NFL is comprised of full grown men with legit skills and a lot of pride in their work. From the pregame coverage you would have thought the Texans were playing a pee-wee team. to the Jets credit, they showed a lot of grit getting up for this game and gave the NFL audience a nice little show.
I, like many, was confident coming into this week. The Jets had just lost their top corner back and receiver to season ending injuries. They also were completely dominated last week at home by San Francisco 34-0. So, in all fairness, the Jets looked doomed coming up against another one of the NFL's elite. Funny thing, these nationally televised games, as players really get up for them because they probably don't want their colleagues looking down upon them.
The Jets gave us a good run for our money. After the Texans opening drive that resulted in a quick touchdown our offense sputtered for much of the game, only getting one more touchdown after that (along with three field goals). The Jets were able to capitalize with a quick touchdown and also ran a punt back for a TD, getting the game to a 23-17 Texans lead with roughly four minutes to go and the ball back. Once again, Gary Kubiak, put the game on the back of the Texans defense by depending on them to close out the game. And of course, the stingy Texans defense stepped up and closed the game out. JJ Watt was the catalyst of our defense by recording another of his league leading 8.5 sacks and tipping several passes at the line of scrimmage. He ended the game on his terms, as demonstrated in this clip.
[youtube]http://www.youtube.com/watch?v=bWQH-lTcYnc[/youtube]
No, you can't try to throw over his head.
Timmy Tebow, got a lot more action in the Jets offense this week. I could talk about this goofball for ages, but it's more pleasurable to just make fun of him. He didn't really do a whole lot last night, got couple short gains, almost threw a touchdown, but the ball was dropped. Nevertheless, I imagine it was exciting for him:
[youtube]http://www.youtube.com/watch?v=VjaJfbqdA_A[/youtube]
The loss of Brian Cushing, our defensive captain and tone setter, could turn out to be a devastator. He is absolutely relentless, a "ball hawk", as he is involved in almost every play on every part of the field. One cannot simply replace the Cush. A couple years ago we lost our defensive captain at the time, DeMeco Ryans, at a similar point in the season and we tanked the rest of the way missing the playoffs by a large margin. I don't expect that kind of impact to this years team (our D is still really really good), but be certain that it will have an impact.
Another concern going forward is the disappearance of Andre Johnson. His biggest game this year was a two reception (albeit, two very important reception) game. He has been receiving double coverage for much of the games, but one would still expect him to produce a little more. Andre had a very uncharacteristic drop last night on third down. We are going to need to see more from him going forward if we are to have a Superbowl-caliber season.
Next week: vs Green Bay Packers @ Reliant Stadium on NBC's Sunday Night Football 7:20pm
Big game next week as we host the two years ago Superbowl champion Packers in our only nationally televised home game of the season. The Packers are coming off of a heartbreaking last second loss, again, as their season has fizzled to a 2-3 start. This team is much better than their record would indicate, and I expect them to be ready to go Sunday night. My gut feeling is this is going to be the Texans first loss of the season, but the crowd gets pumped for these night games and our offense should be looking to rebound with a solid performance. The atmosphere inside Reliant will be electric. Cheers, here's Bart Scott of the Jets relaying my excitement for next week! CAN'T WAIT:
[youtube]http://www.youtube.com/watch?v=LGZCKlonx78&feature=fvwrel[/youtube]